The City Council revives the Municipal Information Point
The service will have a new and highly-visible location in Plaça Pearson, with the aim of contributing to promoting the city
https://www.rubi.cat/en/current/news/the-city-council-revives-the-municipal-information-point
https://www.rubi.cat/@@site-logo/ajuntament-de-rubi.png
The City Council revives the Municipal Information Point
The service will have a new and highly-visible location in Plaça Pearson, with the aim of contributing to promoting the city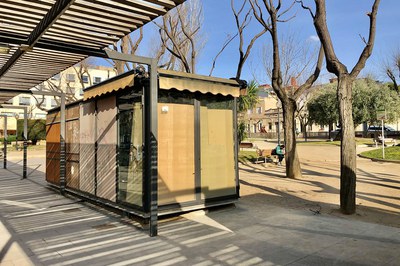 The City Council's City Promotion Service has started working to adapt one of the booths in Plaça Pearson as the new Municipal Information Point. It will offer information to both the citizens of Rubí and visitors on local heritage and tourist routes around the municipality.
The City Council is emptying the booth these days, along with cleaning the graffiti on the outside, changing items like the deck, the inside panels and the electrical wiring, as well as adding new furniture. They forecast finishing the tasks in the first week of February so that the new Information Point can open around the end of March, after establishing its opening hours and the team of workers. 'This is an important service to promote knowledge about our city, both for the people of Rubí and for the people who visit us. We want it to help us strengthen the image of a cultural Rubí that is well worth getting to know,' explained the councilman for City Promotion, Moisés Rodríguez Cantón, who believes that the location next to the station that is highly visible from Avinguda Barcelona 'can be a significant impetus in that regard'.
Some years ago, the Rubí Information Point-Shop was located in the old station. In 2017, the different services it provided were relocated among several municipal buildings, including the Castell Municipal Museum (MMUC) and the Mestre Martí Tauler Municipal Library.