Rubí launches its own perfume for COLOR Week
Eurofragance has created a scent that captures the essence of the city's identity
https://www.rubi.cat/en/current/news/rubi-launches-its-own-perfume-for-color-week
https://www.rubi.cat/@@site-logo/ajuntament-de-rubi.png
Rubí launches its own perfume for COLOR Week
Eurofragance has created a scent that captures the essence of the city's identity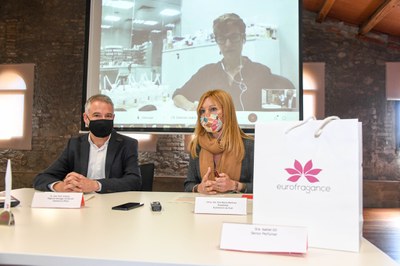 This Wednesday, Mayor Ana María Martínez Martínez and Eurofragance representatives presented the fragrance of Rubí, a scent that evokes the essence of the city's identity and has been revealed in the framework of COLOR Week. 'The fact of having been capable of condensing everything that the city's identity represents into a scent is very important to me,' Martínez said.  The mayor reminded citizens of the industrial nature of the city to thank Eurofragance for its work: 'We are extremely proud of our industrial fabric and that the economic world gets so involved with the city. It will take a while to really thank you for this. The fragrance has arisen from the complicity we have with municipal companies.' Martínez also pointed out the Eurofragance was one of the companies that participated in the Thanks Rubí campaign and – at one of the toughest times of the pandemic – donated 1000 bottles of hydroalcoholic gel, when the product was quite hard to find.
Joan Pere Jiménez Paredes, Regional Manager of EAT and COO of Eurofragance, explained that since the outset 'we found this project very engaging and very creative. After such a rough year, projects like this give us hope to carry on and make us happy, especially being able to work with Rubí, which we always carry in our hearts.'
The Rubí fragrance embodies the essence of the city's name, with the scent of red fruits (pomegranate, raspberries and blackberries), orange and prune, which contrasts with and gives depth to a base of ambergris. It also has wood tones, with hints of cinnamon, clove, nutmeg and cardamon.
Isabel Gil Trujillo is a senior perfumer at Eurofragance. Born in Rubí, she currently works in Singapore and is where she worked on the creative process for the scent, to add the memories and love she feels of her city. 'We wanted there to be a large presence of ruby (Rubí) red, which reminds me so much of my city, and then spices were added to describe the city as a meeting point for people coming from Asia, Africa and the Americas,' Gil continued.
The fragrance, replete with the essence of Rubí, will be an institutional gift that will be given to newly-established shops in the city. The City Council will also study, during a second phase of the project, the possible distribution routes for the perfume.