Youth and political representatives compare and swap ideas in the second session of the Youth/Green ImPACT project
The first activity for this initiative closed on Thursday, a structured dialogue between young people and the administration to discuss applying the European Green Deal locally
https://www.rubi.cat/en/current/news/youth-and-political-representatives-compare-and-swap-ideas-in-the-second-session-of-the-youth-green-impact-project
https://www.rubi.cat/@@site-logo/ajuntament-de-rubi.png
Youth and political representatives compare and swap ideas in the second session of the Youth/Green ImPACT project
The first activity for this initiative closed on Thursday, a structured dialogue between young people and the administration to discuss applying the European Green Deal locally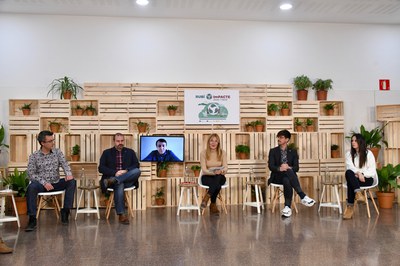 Young Rubí residents 13 and 14 years old, along with municipal and European political representatives, held a new virtual meeting this Thursday within the Youth/Green ImPACT Project. This session concluded the first activity of this City Council initiative, framed within the European Commission's Erasmus + programme and developed with support from the National Youth Institute (INJUVE), which organised a structured dialogue between young people and the administration to apply the European Green Deal locally.
The meeting had a special talk by Javier López Fernández, member of the European Parliament since 2014 and a member of the Committee on the Environment, Public Health and Food Safety. The politician took part in a round table with some 50 young people. Further attendees included Mayor Ana María Martínez Martínez; the city councilman for the Environment, Ecological Transition and Animal Welfare, Andrés Medrano Muñoz; the councilman for City Promotion, Moisés Rodríguez Cantón; the councilman for Education, Víctor García Correas; and the councilwoman for Youth, Annabel Cuesta Fabre.
During her talk, the mayor mentioned the first session of the project, when 'young people and politicians shared the pillars of the European Green Deal and the commitment that must be made to make it real, both by European and municipal institutions. Because, yes, we can steer towards ecological transition locally. And, further, without cities no change is possible.' The mayor ensured that she is completely sure of that and, in that regard, reminded everyone of the words of city councilman Andrés Medrano Muñoz, who in the last session detailed all the actions being driven forward at a local level to have a greener and more sustainable present and future. 'Measures on energy efficiency and renewable energies that are being implemented via the Rubí Brilla (Rubí Shines) project, but also measures related to the environment, air quality, the water cycle, waste reduction and management, and sustainable mobility,' the mayor commented.
For his part, MEP and member of the Committee on the Environment, Public Health and Food Safety, Javier López Fernández, reflected on the meaning of the European Green Deal. Europe has set goals to become a climate-neutral continent by 2050 and, to achieve this, has designed a roadmap to – among other features – reduce emissions by 55% by 2030. 'We are working so that our economy and our society stops depending on fossil fuels, especially oil and gas, with the aim of reducing environmental impact and protecting biodiversity, which is being damaged by our growth model. We must commit to transforming industry and mobility, to reforming our homes to make them more energy efficient – Rubí is a benchmark in this area – and to reforming our energy sources by making a firm commitment to clean renewable energies.' López Fernández continued that this must all be done hand in hand with other countries and continents: 'It will be like the race to get to the Moon in the 20th century, although our goal now isn't space travel, but saving the Earth. And one of the things we see is that it is all related to the way we live and live together in our cities.' Cities that – as the MEP pointed out – must be more sustainable, with mobility that prioritises walking, cycling and electric vehicles over traditional cars; in which working methods change, with a larger presence of teleworking; and where there is no sector specialisation. 'In short, cities will have to be more inhabitable, because our lifestyles are what are at risk'. And he said that fortunately 'the new generations are much more aware and conscious, because they know that the planet depends on what we do today'.
Young men and women are the key to the future
In the previous session on 21 January, Rubí's young people proved that they are worried about the survival of the planet and that – unlike previous generations – as the MEP and the mayor pointed out, they are aware that this is an imminent problem, whose solution cannot be delayed any longer.
On Thursday, the young participants, from the Council of Adolescents and the city's public schools, had the chance to go into greater depth and debate some of the topics already brought up in the first meeting.
Thus, they posed several questions to municipal and European political representatives, such as what impact young people can have on improving the environment, how the European Union can make electric vehicles more affordable and accessible, if there are models to minimise fossil-fuel use that can be applied in our country, how pandemics impact the environment and vice-versa, and whether it is possible to achieve 100% renewable energies.
Besides these questions, they also made concrete proposals, such as creating several vertical gardens on public buildings, which could be watered with rainwater and contain edible plants so that the fruits could be distributed to vulnerable people.  
The objective of the Youth/Green ImPACT project is to improve youth's knowledge of the European Green Deal, creating spaces for debate with their political representatives on the actions and measures that can be adopted, and strengthening their local and European civil participation capabilities. To achieve these objectives, Rubí will organise up to five activities during 2021, which will see the involvement of some 700 young people from 13 to 30 years old, along with representatives from the local administration and European politicians and experts.
This session last Thursday could be followed via streaming and will soon be published on the municipal website.