The Youth/Green ImPACT Project moves ahead with the holding of two new activities
This Thursday and Friday, secondary school students and municipal political representatives dialogued on the European Green Deal
https://www.rubi.cat/en/current/news/the-youth-green-impact-project-moves-ahead-with-the-holding-of-two-new-activities
https://www.rubi.cat/@@site-logo/ajuntament-de-rubi.png
The Youth/Green ImPACT Project moves ahead with the holding of two new activities
This Thursday and Friday, secondary school students and municipal political representatives dialogued on the European Green Deal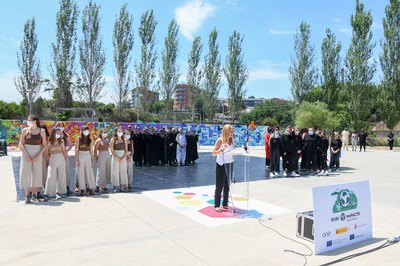 This Thursday and Friday, two new activities will take place within the Youth/Green ImPACT Project, an initiative by the Rubí City Council framed within the European Commission's Erasmus + programme and developed with the support of the Spanish National Youth Institute (INJUVE). A structured dialogue is planned between young people and the administration to decide how to apply the European Green Deal locally. On this occasion, the city's secondary school students will meet with municipal political representatives to keep advancing together on the road towards a more sustainable Rubí and Europe.
The session this Thursday, entitled Towards a Green Deal for Rubí and for Europe, addressed to year two compulsory secondary students from La Serreta, J. V. Foix, L'Estatut and Duc de Montblanc schools, while the call for Friday, Youth with Rubí for a More Sustainable Municipality, will bring together years 3 and 4 secondary students from J. V. Foix, L'Estatut and Duc de Montblanc schools. In both cases, the meetings will be online and participants will include Mayor Ana María Martínez Martínez; the councilman for the Environment, Ecological Transition and Animal Welfare, Andrés Medrano Muñoz; the councilman for International City Promotion, Moisés Rodríguez Cantón; the councilman for Children and Education, Víctor García Correas; and the councilwoman for Youth, Annabel Cuesta Fabre. Carlota Martí Niubó, head of Media for European Commission Representation in Barcelona, will also attend.
During the activities, a short presentation of the European Green Deal will be made and the municipal policies being developed at present in the environmental area will be explained. Then a dialogue of some 90 minutes will be initiated between the political representatives and the participating students.
Youth as the main players
The last activity of the Youth/Green ImPACT Project was held on 28 May. Some 390 year one secondary students from Duc de Montblanc, La Serreta and L'Estatut schools met at the amphitheatre in Castell Park with the aim of raising awareness about the Green Europe in the Neighbourhoods proposal. In the days before the meeting, the participating students created – under the coordination of the edRa Art and Design School – some 20 murals related to climate change using recycled materials they had collected over the previous months. The activity finished with a show put on by local dance schools, which symbolically represented the main climate challenges we are facing as a society.
The Youth/Green ImPACT project consists of five activities that will be implemented this year and will be centred on different youth groups. All of them focus on applying the European Green Deal in this region, by promoting dialogue between the young people and institutions.