The Youth/Green ImPACT project is up and running with the first dialogue between youth and the administration
This Thursday, some hundred young people from the Child and Adolescent Council and Rubí's schools will hold a first debate with municipal and European Parliament representatives
https://www.rubi.cat/en/current/news/the-youth-green-impact-project-is-up-and-running-with-the-first-dialogue-between-youth-and-the-administration
https://www.rubi.cat/@@site-logo/ajuntament-de-rubi.svg
The Youth/Green ImPACT project is up and running with the first dialogue between youth and the administration
This Thursday, some hundred young people from the Child and Adolescent Council and Rubí's schools will hold a first debate with municipal and European Parliament representatives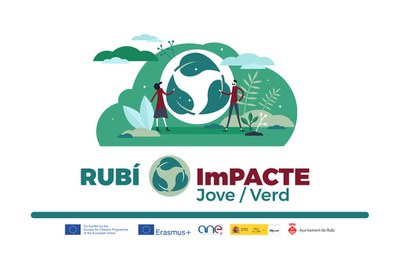 This Thursday, 21 January, the inaugural session to open the first activity of the Youth/Green ImPACT project will be held, an initiative by the Rubí City Council framed within the European Commission's Erasmus + programme and developed with the support of the Spanish National Youth Institute (INJUVE). A structured dialogue is planned between young people and the administration to decide how to apply the European Green Deal locally. The project will kick off with an online meeting between City Council and European Parliament representatives and some hundred 13- and 14-year-olds from the Child and Adolescent Council and five public city schools.
The objective of the Youth/Green ImPACT project is to improve youth's knowledge of the Green Deal, creating spaces for debate with their political representatives on the actions and measures that can be adopted, and strengthening their local and European civil participation capabilities. To achieve these objectives, Rubí will organise five activities during 2021, which will see the involvement of some 700 young people from 13- to 30-years old, along with representatives from the local administration and European politicians and experts.
This Thursday's session will be the initial contact before the big debate on how to apply the European Green Deal in Rubí, which will be held on 18 February. Participants at the activity included Ana María Martínez Martínez, mayor of Rubí; Andrés Medrano Muñoz, councilman for the Environment, Ecological Transition and Animal Welfare; and César Luena López, member of the European Parliament and vice-chair of its Committee on Environment, Public Health and Food Safety.
The mayor will be in charge of welcoming the nearly 100 youth who will participate in this first debate. As an introduction, the results of questionnaires conducted previously with the young men and women will be presented, and then MEP César Luena López will give the main address on the European Green Deal. In turn, city councilman Andrés Medrano Muñoz will detail the municipal policies now being developed on the environment. After each of the speeches, the young people will have the chance to ask the political representatives questions. People interested in following the session live, which will start at 5.30pm, just need to fill out a simple form to receive the link for the broadcast.
As part of the same activity, on 18 February the different participants will meet again for a more in-depth structured dialogue surrounding the matters handled in the first debate.
To prepare for the Youth/Green ImPACT project, in December an initial virtual meeting was held between the City Council and a representative of the young people taking part in this initiative. During the session, the objectives of the Erasmus + programme and the Youth/Green ImPACT project were explained to them, as well as the Green Deal and the role that they can play.