Students from J. V. Foix, La Serreta, L'Estatut and Duc de Montblanc schools participate in two structured dialogue sessions within the Youth/Green ImPACT Project
The young people reflected on the European Green Deal and the city's environmental policies with municipal and European Commission political representatives
https://www.rubi.cat/en/current/news/students-from-j-v-foix-la-serreta-lestatut-and-duc-de-montblanc-schools-participate-in-two-structured-dialogue-sessions-within-the-youth-green-impact-project
https://www.rubi.cat/@@site-logo/ajuntament-de-rubi.png
Students from J. V. Foix, La Serreta, L'Estatut and Duc de Montblanc schools participate in two structured dialogue sessions within the Youth/Green ImPACT Project
The young people reflected on the European Green Deal and the city's environmental policies with municipal and European Commission political representatives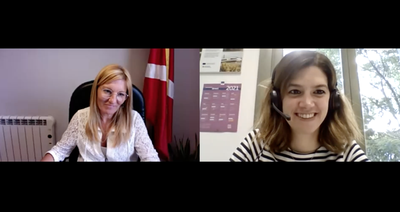 Secondary students from La Serrata, JV Foix, L'Estatut and Duc de Montblanc schools participated in two structured dialogue sessions on Thursday and Friday within the Youth/Green ImPACT Project, an initiative by the Rubí City Council framed within the European Commission's Erasmus + programme, developed with the support of the Spanish National Youth Institute (INJUVE).  The Youth/Green ImPACT Project involves the city's young people and the administration to apply the European Green Deal locally. On this occasion, secondary school students met with municipal political representatives and one European Commission representative to keep moving forward on the path towards a more sustainable Rubí and Europe.
Thursday's session was entitled 'Towards a Green Deal for Rubí and for Europe', and brought together year 2 compulsory secondary students from La Serreta, J. V. Foix, L'Estatut and Duc de Montblanc schools. Friday's session was called 'Youth with Rubí, for a more sustainable municipality', which had participation from years 3 and 4 compulsory secondary students from J. V. Foix, L'Estatut and Duc de Montblanc schools. "In Rubí we aspire to actively  contribute so that Europe complies with the target it set in the Green Deal: to become the first climate-neutral continent driving forward the economy and improving citizens' health and quality of life, protecting nature and not leaving anyone behind. And in this task, you, the young people, are a fundamental part," Mayor Ana María Martínez Martínez said during her welcome address to the students.
On both days, further participants at the meetings included Carlota Martí Niubó, head of media for European Commission Representation in Barcelona; the councilman for the Environment, Ecological Transition and Animal Welfare, Andrés Medrano Muñoz; the councilman for International City Promotion, Moisés Rodríguez Cantón; and the councilman for Children and Education, Víctor García Correas. After a short presentation on the European Green Deal and the Rubí City Council's environmental policies, the political representatives responded to the questions made by the young students. "If we do things like they need to be done, we still have time to reverse the polluting trend. There is not much more time, but we've still got time. The European Green Deal is Europe's general strategy for achieving it," explained Martí Niubó.
During the sessions, the young people took an interest in solar panel installations for homes and public buildings, called out for more bike lanes and electric and hybrid means of public transport; requested information on nuclear energy and the waste it generates and asked about promoting recycling in the private, educational, business and commercial arenas.
The objective of the Youth/Green ImPACT project is to improve youth's knowledge of the European Green Deal, creating spaces for debate with their political representatives on the actions and measures that can be adopted, and strengthening their local and European civil participation capabilities. To achieve these objectives, Rubí organised up to five activities during 2021, which will see the involvement of some 700 young people from 13 to 30 years old, along with representatives from the local administration and European politicians and experts.