Rubí to participate in the European Week of Regions and Cities with the workshop 'Local and Regional Climate Action'
Mayor Ana María Martínez Martínez will present the Rubí Brilla (Rubí Shines) project in the framework of this event, which will be held on 20 October in Brussels
https://www.rubi.cat/en/current/news/rubi-to-participate-in-the-european-week-of-regions-and-cities-with-the-workshop-2018local-and-regional-climate-action2019
https://www.rubi.cat/@@site-logo/ajuntament-de-rubi.png
Rubí to participate in the European Week of Regions and Cities with the workshop 'Local and Regional Climate Action'
Mayor Ana María Martínez Martínez will present the Rubí Brilla (Rubí Shines) project in the framework of this event, which will be held on 20 October in Brussels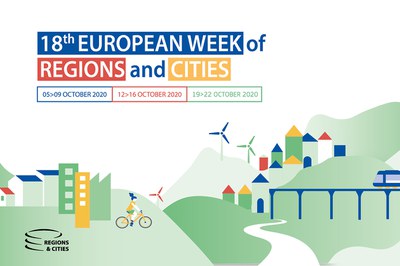 The Rubí City Council and the Association of European Border Regions (AEBR) are jointly organising the workshop Local and Regional Climate Action, which will be held on 20 October in Brussels within the 18th European Week of Regions and Cities. At this event, Mayor Ana María Martínez Martínez will present Rubí's experiences with the project to foster energy efficiency and renewable energies, called Rubí Brilla (Rubí Shines).
The European Week of Cities and Region is the most important annual event for regional policies at a European level. This year, it will be held from 5 to 22 October and, due to the widespread Covid-19 health crisis, will be entirely online.
Rubí was there for the second consecutive year, as the co-organiser this time of a workshop on local and regional experiences in the field of climate action, in which the Cologne City Council (Germany), the Odessa Region (Ukraine) and the Lappeenranta City Council (Finland) also participated. The panel is closely related to the targets of the Green Deal, the European Union Climate Action Plan and the Covenant of Mayors initiative, all aimed at achieving clean energy and energy efficiency.
The session will be presented by international artist and activist, Ruslana, and moderated by the AEBR Secretary General Martín Guillermo Ramírez. During the event, political leaders of the invited cities and regions will present their respective experiences and then the floor will be opened up for a debate. Members from the project Interreg Volunteer Youth plan to participate there, sharing their concerns and expectations on this topic.
The workshop Local and Regional Climate Action can be followed live on 20 October, from 2.30 to 4.00 pm, on the interactive platform of the European Week of Cities and Regions. To watch it, you must first register for the event at the latest by 14 October.
For Ana María Martínez Martínez 'it is a privilege to participate so prominently at this large European event. Last year, we had the opportunity to learn from the experiences of other cities and regions, and to make extremely advantageous contacts there. This year, we will have the chance to organise a workshop and present the project Rubí Brilla (Rubí Shines), giving us an enormous incentive as a city working to obtain the Sustainable Development Goals.'
The session, promoted by the Rubí City Council, is included in the Green Europe subject block, scheduled from 19 to 22 October. The event will also handle the issues Empowering Citizens (5 to 9 October) and Cohesion and Cooperation (12 to 16 October).